Korea may not be famous as a country with great stargazing spots but the Yeongyang Firefly Eco Park is probably the best place in Korea (or possibly Asia) for stargazing.
Despite Korea being a populous country, the area surrounding the park is rather mountainous, thus making the land not suitable for civilisation or farming. As a result, light pollution in the area is minimal, so much so that the International Dark-Sky Association (IDA) awarded the park a Silver Tier for its quality dark sky and beautiful night scenery for stargazing.
VERY IMPORTANT HOT TIP*
Before you head to the park, you should make a reservation for their nighttime observatory experience tour HERE (Even though they mentioned on their website that you may visit without reservation). Their reservation system is more favourable towards Koreans and Foreigners living in Korea but not tourists so if you are a tourist, I recommend that you ask a Korean friend to help you make a reservation or give the park a call at 054-680-5325. I believe you should be able to make a reservation by phone call. Without a reservation, you won't be informed if a tour has to be cancelled due to unforeseen circumstances. You don't want to let your 4.5 hours of travelling by car from Seoul go to waste. 😥
Also, almost every part of the process will require you to know some Korean. If you are looking to start learning the Korean language, you can explore our online courses page.
You might also want to check the weather forecast before making a reservation.
There are nighttime tours between 7:30 pm to 10 pm. They are closed every January 1st, Lunar New Year holiday, Chuseok holiday, the day after a legal public holiday, and every Monday.
You will also need to pay a small fee for the tour (4,000 won).
*All the information provided above may be subject to changes so please check their website for the latest information before heading over to the park!
Observatory Experience Tour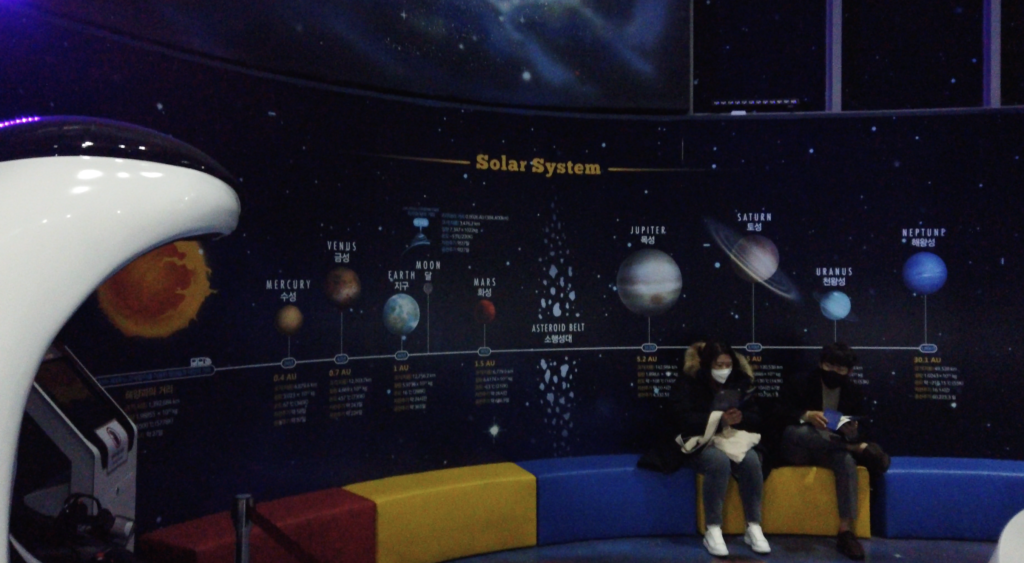 Once you reach the park, head straight into the Observatory Building and inside, you will find many exhibits about space. Here is where you will start your observatory experience tour. Let me quickly show you want to expect during this tour without spoiling too much of the experience.
Once the tour starts, a guide will lead you into what seemed to me like a theatre. However, you won't be able to find the traditional flat screen in this theatre. Instead, a video about the "Night Sky" will be projected onto the semi-dome ceiling! It felt like I was looking directly at the night sky once the lights were all switched off and the video started playing (Video commentary is in Korean but the visuals make the video content understandable to almost anyone).
Once the video is over, you will be led into another "room" with a few telescopes pointing towards the ceiling (???). I was puzzled when I saw the telescopes in an indoor room but what happened next got me shook. The ceiling actually OPENED UP and revealed the unobstructed night sky and the view was spectacular.
It was different seeing the sky from the top of the building versus from the ground floor since the top of the building is away from the light pollution of the lights illuminating the building. There, the guide explained more about the different star formations and pointed out the stars that were more commonly known using a laser pointer. It was like a lecture with the night sky as the presentation slides.
After the "lecture", you will be given some free time to peek into each telescope (yeah, it was then that I understood why the telescopes were there) that was strategically positioned to point at various well-known star formations for your viewing.
After that, you will be led to another room where the big guns are. In that room, you will see a HUGE telescope that is pointing towards a PLANET (I forgot which planet it was pointing towards ㅠㅠ) and you will get a chance to look through that telescope! Unfortunately, I don't have a good picture of the telescope since the whole room was dark.
The tour will be more or less over after you have taken a peek at the planet, but don't be too in a hurry to leave the area. Instead, you might want to take your time do some stargazing and also take some pretty pictures to remember your trip there.
HOT TIP: The area just outside the observatory is slightly lit up for safety reasons so that place may not be the best place to observe the sky. Instead, go to this helipad area (shown below) where light pollution is minimal and stargaze from there!
HOT TIP: Bring a camera or phone stand to be able to take nice photos of the night sky. To be able to take photos like the ones above, you will need to increase your shutter speed to more than 5 seconds and take your photos while your phone or camera is on the stand (i.e. when you press the button to take the picture, your phone has to be completely still on the stand for more than 5 seconds). To learn how to change your shutter speed on your phone camera, click here for Android phones or here for iPhones.
So what do you think of stargazing in Korea after seeing the photos? Would you want to go stargazing at Yeongyang after this?
SAVE TO NAVER MAPS