These days, we all have subscriptions to almost everything, but did you know, that you can subscribe to get Korean snacks? Introducing Seoulbox, a service that aims to bring Korea to your doorstep, wherever you are around the world. Seoulbox will send you a box of authentic Korean snacks or merch every month!
Seoulbox sent us one of their best boxes to review, their Bye Bye Summer Box, and today, we will be bringing you along to experience the unboxing of one of Seoulbox's subscription boxes.
First Impressions
We really loved the design and build of the box! The bright colors stood out and the box itself felt sturdy. You should feel assured that your snacks and merch inside the box are well-protected during delivery. Also, the design of the box is inspired by the architectural design of Hanoks, which are traditional Korean houses.
Opening the box reveals a box full of Korean products.
And we really meant full, full. (We tried to repack all the snacks back after the unboxing but failed terribly.)
Before we examine the snacks, let's talk a little bit about Seoulbox magazine.
Seoulbox Magazine
We picked up the magazine not expecting much but when we flipped it open, we were pleasantly surprised.
In the magazine, you can get specific information about each and every one of the snacks in the box so you know what to expect when going through the box of snacks.
Such information is useful, especially for people who may know how to read Korean since a lot of information on Korean snack packaging is written in Korean. We also loved that they included allergen warnings for people with certain food allergies.
Inside, you can also read articles related to the theme of the box. Since Busan was the theme, we found very useful information on some tourist attractions that you can find in Busan.
You can even learn some Busan dialect phrases if you are into Korean language as well. There is a lot more content for you to read in their 36-pages magazine. We recommend you to NOT toss it aside when your Seoulbox arrives. Read it to really immerse yourself into the whole Korean experience.
Inside the Seoulbox Bye Bye Summer Box
Now, the fun part. Let's take a closer look at this Seoulbox's Busan Bye Bye Summer Box and what it has to offer.
Looks can be deceiving. We didn't expect a box of that size to be able to contain that many products!
As you can see, there was a wide variety of products. In fact, Seoulbox plans the items so that each box will contain at least 1 item from different categories, namely drinks, Korean snacks, Korean merch, and K-beauty products.
Another point that we appreciated was that there were a lot of products that we were seeing for the first time, which means that many of the products that Seoulbox sourced for were unique and special. (We consider ourselves familiar with Korean products, by the way)
This caught our attention. From afar, we thought that it was a deck of playing cards. Now, if you weren't able to read Korean, you might have thought the same. Thankfully, the magazine contained information about what the product is and also some allergen warnings.
This is also a snack that we have never seen before. At first glance, it looked like hand sanitizer because of the color. 😅 Thanks to the magazine (again), we found out that it's an edible snack.
We did realize that some of the snacks that appeared in the magazine were not found in the box. However, Seoulbox replaced these missing snacks with other similar snacks in our case.
It's understandable when some snacks run out of stock and some may even go out of production. We are glad Seoulbox takes active steps to ensure that customers are never shortchanged. 👍
Inside the box, you can also find non-edible Korean products. Since our box was the Busan summer box, Seoulbox put a fan and a facial mask in it.
Oh, by the way, it's not just an ordinary brandless hand fan. It's an authentic BT21 minini hand fan!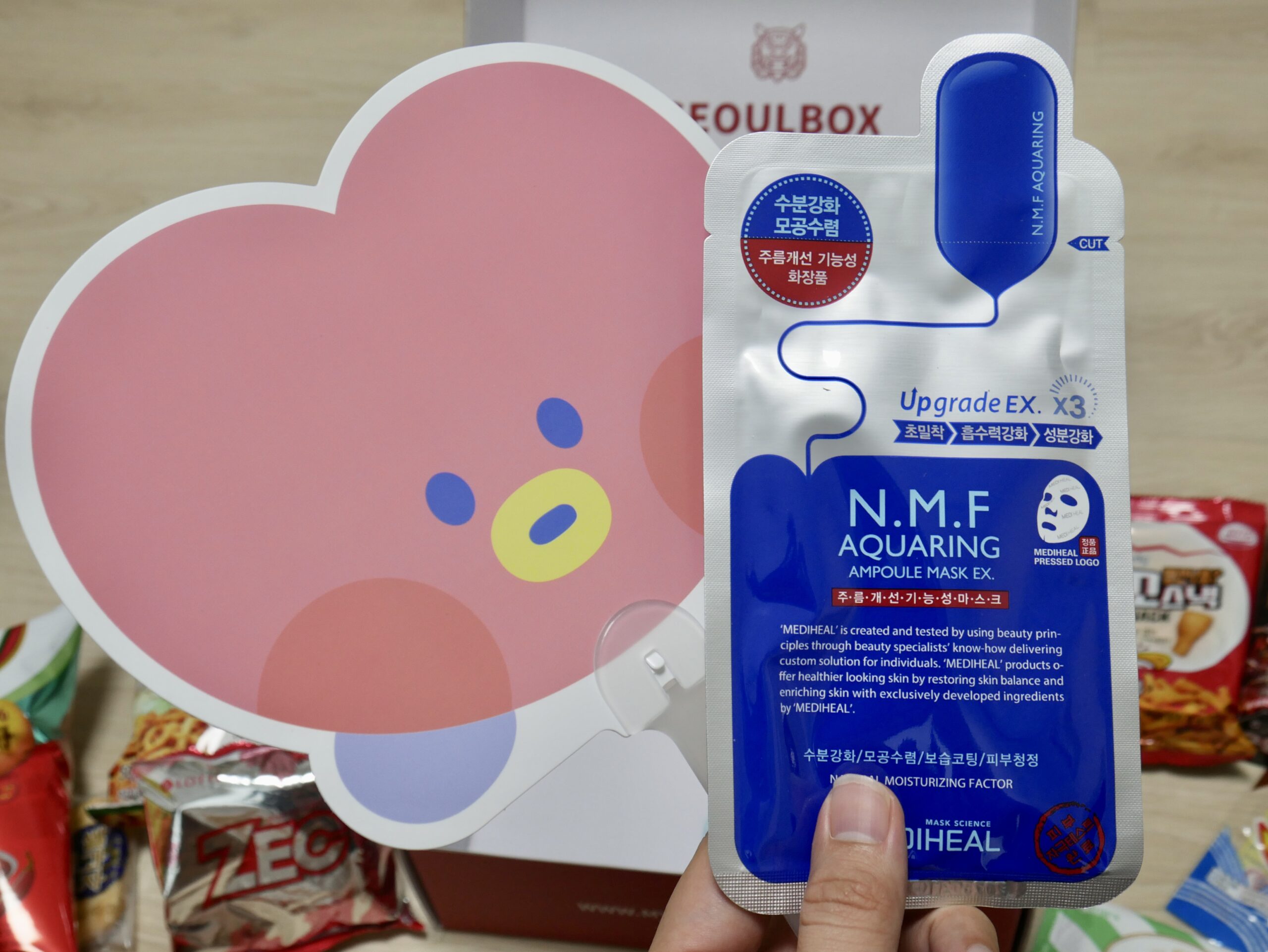 Final thoughts
The whole experience of unboxing Seoulbox's Bye Bye Summer box felt very authentic. After going through this box, we felt like we have experienced a little bit of Busan in the comfort of our own home.
We realized that Seoulbox isn't just about eating the snacks and using the products. The thought process that went into planning what products to put in and what content to include in the magazine all helped to make the Seoulbox more of a sensory experience than just a snack box subscription.
SPECIAL DEAL
If you are interested to experience Seoulbox for yourself, use our promo code "KOREANGOGO" to get 10% off your purchase!